your lifestyle's too extreme
Tour commenced Melbourne Comedy Theatre 1st July 1992
PRODUCTION DETAILS

Book, Music & Lyrics by Richard O'Brien
Original Music and Arrangements by Richard Hartley

Directed by Nigel Triffitt
Production Design -Nigel Triffitt


Costumes - Sue Blane reimagined by Kim Bishop

Choreography - Chrissie Koltai

Production Manager -
Musical Director - Conrad Helfrich
Lighting - David Murray
Sound -
ALL SONGS ARRANGED BY: Garth Porter


Produced by Paul Dainty

Principal Cast:
Dr. Frank N. Furter: Craig McLachlan / Marcus Graham (Adelaide)
Janet Weiss: Gina Riley / Ally Fowler (Adelaide)
Brad Majors: Glenn Butcher Stephen Kearney (Melbourne)
The Usherette/Magenta: Linda Nagle
Riff Raff: Peter Rowsthorn
Columbia: Alyssa Jane Cook
Eddie/Dr. Scott: Wilbur Wilde / Frankie J Holden (Adelaide)
The Narrator: Red Symons
Rocky Horror: Christopher Kirby
Phantoms: Micheal Beckley, Andrea St. John, Micheal Cormick, Steven Judkins, Kate Johnson, Michael Dalton


The Band:

Mark Meyer:

drums


Joe Creighton:

bass


Simon Patterson, Sam See:

guitars


Cezary Skubiszewski, Garth Porter:

keyboards


Conrad Helfrich:

piano


Alex Patou:

percussion


Wilbur Wilde:

saxophone


Susie Ahern, David Wilson, James Uluave:

additional backing vocals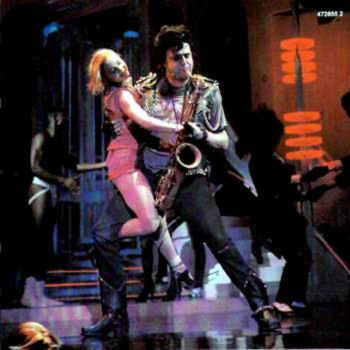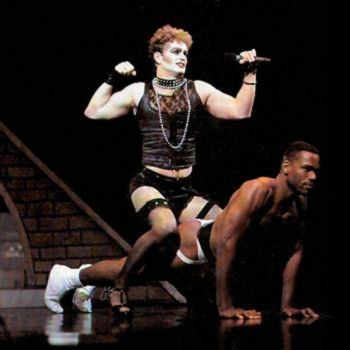 Review
Reading the interview with Nigel Triffitt says it all, "hated the original show thought it was tacky", thinks people who repeatedly see the film need to "get a life", doesn't know Rocky can't sing till his rehearsal:
An African American Rocky who couldn't sing, re-orchestrations that castrated the songs and an over the top Nigel Triffit set design made this production a hollow affair. Although an extravaganza for the eyes, the script was made fun of and parody was taken to extremes.

The costuming was reworked into lavish colourful versions of their Sue Blane origins. The original idea of the audience using their imaginations to fill in the backdrops and settings was not needed as this production had a castle on stage, a car, and a rocket that took off.

The cast were a grouping of Australian TV, mostly soap, stars.